1) i got a new coat at lunch, but no boots. it's this coat but cream coloured.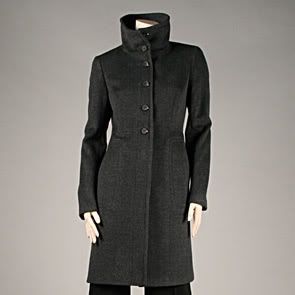 the collar is really nice. it goes up high - halfway up my face. so no need for a scarf and i can also look shifty and incognito like a p.i.
2) i am not hungry. seriously. i ate a chocolate chip banana bran muffin (1) for breakfast and around 12:30 ate oatmeal with a bit of milk and 1/2 cup berries. (3) that is 4 points total people! but i'm just not hungry. i'm drinking tea right now and it's lovely. the thought of eating makes me want to, but after thinking about it... i'm just not hungry. ok now i had 2 pieces of toast - add on 2 more points. but still 6 points is not that much.
will wonders never cease!?