one of my friends recently told me that my personal style had really changed, and i don't think it really has, except that now i am wearing the clothes i always wanted to wear but couldn't (wouldn't) before. and it made me think about all the things i didn't do, or rather, wouldn't let myself do, when i was heavier.
for example, when i was heavier:
i hated summer because i didn't want to wear tank tops or shorts. instead i overdressed and made myself hot and uncomfortable.
i wore a t-shirt over my bathing suit. in retrospect this probably just increased my blobby middle-section.
i didn't want to take group exercise classes because i was ashamed at how out of shape i was.
i was appalled at the idea of daily exercise, like riding my bike to work.
i didn't want people to look at me, because i didn't like looking at myself.
anyway, now i do like looking at myself, and i wear interesting clothes. like these shiny tight leggings i wore for new years:
this is before the party (no guests yet) and dancing by the snack table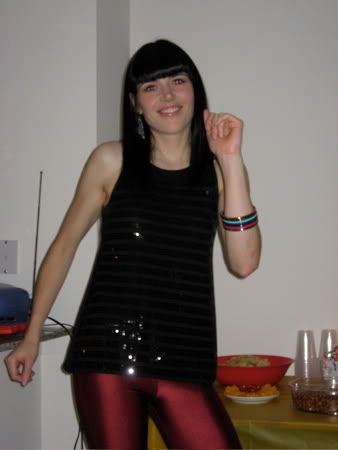 and this is post party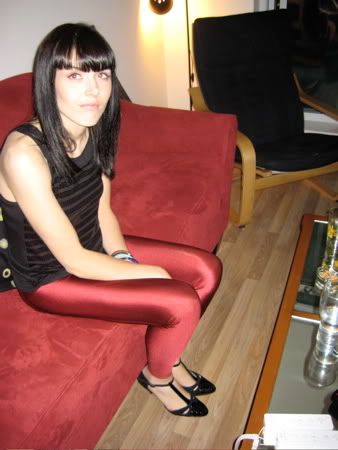 last night i ran outside! finally. it was a bit wet but warm enough. i thought i was going for 4 miles, and today when i mapped it online, i realized that's 6.7 km. impressive! this coming from a girl who couldn't even go two minutes without stopping not that many months ago.
yesterday for lunch i went to wendy's and had a jr. hamburger deluxe with no mayo and a side salad. the hamburger was like heaven. mmmmmmm.
today i am eating:
reduced sugar apple cinnamon oatmeal
strawberries
coffee
all bran bar
pc blue menu vegetable lasagna
fat free vanilla yogurt
1/4 cup all bran
and for dinner, mystery! although probably edamame because i have some leftover from last night.