today is a busy one, so it calls for another list:
1) my review of dinner is in the comments of the post before this one.
2) here are pictures of my pillow (that i made in my sewing class):
this is the first picture, but i don't think that the table did it justice.
so i took another against this audrey picture i haven't hung up yet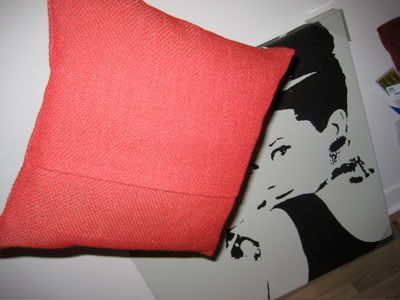 then i wanted to show how well the fabric matched my couch (and it's from the walmart clearance bin too)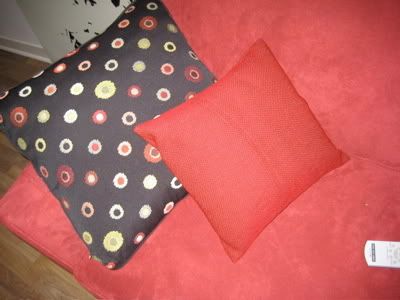 3) i am taking another tap class which starts tonight. i love tapping! tippity tap tap *jazz hands*
4) i got home before my boyfriend last night, so thought i would have time to finish my carmen electra strip to fit workout video. for those that are interested there is a "main" part which has cardio and works the whole body, then there are three mini target sections, for legs, arms, and abs - they are about five minutes each. anyway, i wanted to do these mini sections before he got there but he caught me. and then started taking photos of how "cute" it was. (it wasn't.) one benefit of working out to a video in the privacy of your own home, is that you can wear whatever you want, including your fuzzy slippers, striped socks, and napoleon dynamite "liger" shirt.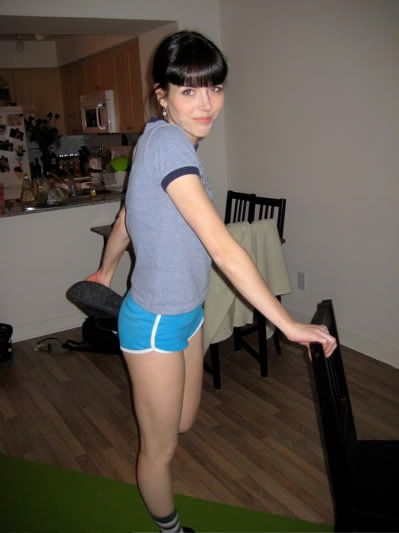 5) guess what toronto girls? if you look in your dominion/a & p grocery flyer, you'll see that tomorrow (friday) they are going to start selling fiber one bars in canada. i'm excited!
6) today i'm eating:
tea
weight control maple brown sugar oatmeal
coffee
all bran honey bar
clementine
granny smith apple
leftover dinner (1/4) from last night, but for lunch
and for dinner, i don't know. since i'm tapping i don't know how rushed i'll be.