today is blue monday, according to the news. the associated press reads, "Bad weather, post-Christmas debts and failed New Year's resolutions are all thought to help make Monday the most depressing of 2008, with the highest number of suicides." yikes! but the article also says that by thinking negatively, your day will just get worse and worse, which of course is true. bad vibes.
so on the weekend i got an absolutely wicked pair of shoes at my favourite vintage dress store, which is called "i miss you."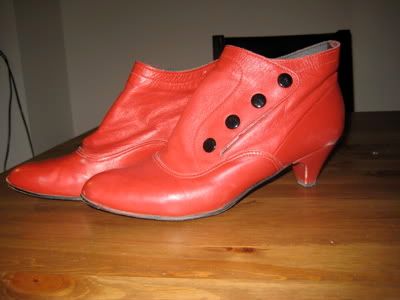 i wore them one time, and look what happened!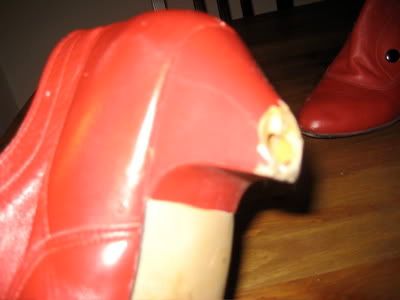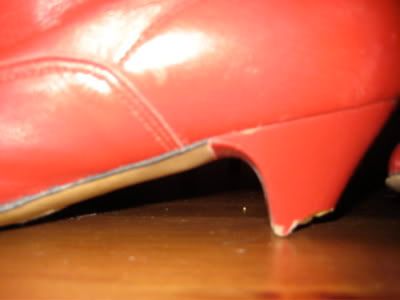 it's ok, don't be sad for me. i'll go to the shoe repair man at lunch and see what he can do. i really like them and it would be a shame if they committed suicide on the day before the most depressing day of the year. i had a bit of an accident. i slipped down some stairs while wearing them, fell, while falling took out my boyfriend who fell on top of me, and the rest is history. i have a huge bruise and a swollen ankle. once again, don't cry for me because i'm fine, i just hope that this bruise won't affect my determination to do four yes four midweek workouts this week. one of the treadmills in my gym is out of order. this really is not cool because a) there are only three treadmills and b) there are no time limits which means that some people like to hog the treadmills during peak times. and not to mention c) i pay condo fees for this stuff... not cheap!
today's menu:
slice of sprouted grains toast
tea
blackberries
weight control oatmeal
coffee
yogurt
1/2 sandwich (leftover)
garden tomato soup to go
apple
clementine
spicy bean burger salad