my review of ps. i love you (the movie) = depressing! some parts were funny but on the whole it was slow moving and very depressing and i hope to never see it again!
some of you want to see pictures of my high-waisted wide-legged turquoise jordache pants. well, here they are! i didn't get a good shot of the entire pants, but there is a picture of me getting ready, and one of me sitting on a giant light-up tiger. don't ask. yes, it was at the end of the night... so what?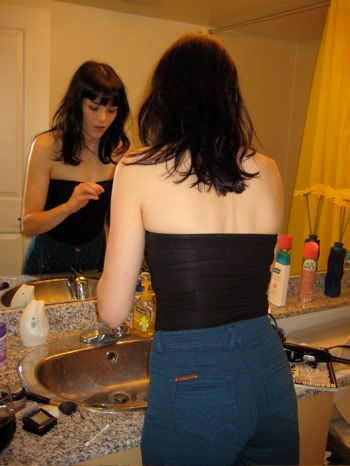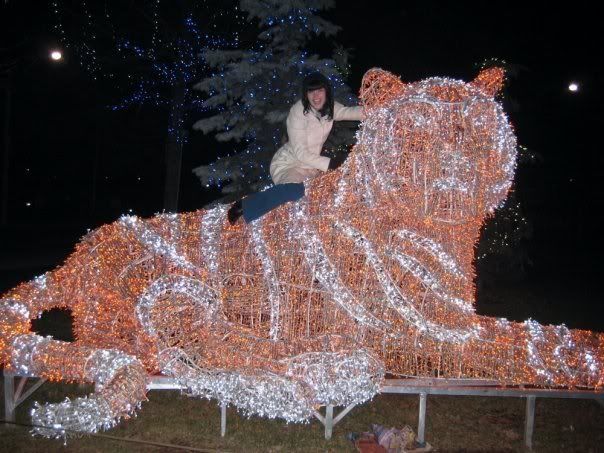 i am really busy at work today, writing stuff about new books for sales reps. i woke up early again this morning at did another 80 minute treadmill incline walk. hardcore! actually it wasn't that hardcore. i started reading this new book called "the cement garden" by ian mcewan. my boss leant it to me. it's short so i am about halfway done. it's bizarre, and the subject matter is kind of... creepy... but worth reading.
this weekend should be good. tonight i am staying in with my lovely boyfriend (who i forgot to say sent me a dozen long stemmed roses at work this week!) and watching borat (again) and tomorrow maybe some dancing. i am looking forward to relaxing with a capital R.
today i'm eating:
some honey nut all bran with silk soy (before workout)
some almonds and dried apricots (post)
coffee
strawberries
yogurt
weight control maple brown sugar oatmeal
and for lunch
a fat free turkey sandwich on whole wheat bread with a processed mozzarella cheese slice
blackberries
an apple
a cup of instant soup
and for dinner... je ne sais pas!