i had a very nice weekend. on friday i just chilled with my boyfriend at home. saturday i went for a run in the morning (6 miles! longest run yet!), then we went to this swing dancing class in the afternoon. a new dance studio opened in my neighbourhood and it was an open house weekend with free classes. yesterday i got my bike out of storage, put air in the tires, and rode to a used bookstore downtown to get the newest book for my book club
suite francaise
which i will start today as i have only a few pages left of
eat pray love
which definitely redeemed itself and i definitely recommend picking it up if you haven't done that before.
in other news, i picked up steel cut oats for the first time and made a batch last night and i'm not really sold. they are chewy which is nice, but kind of slimyish. slimy... not so good. and they are completely flavourless. i added some splenda, vanilla, and cinnamon but they are still kind of bland. does anyone have any cooking tips?
some of you wanted to see some before pictures. at first (months ago) i wasn't into posting pics of myself at my higher weights, because a) i'm vain (so what...? ;o), and b) i don't even feel like i am the same person anymore. actually i've always thought of myself as a skinny person in a chubby girl's body... but pictures don't lie! but if it's going to motivate anyone, then i'm all for it. i mean, i'm just a regular person (although by no means ordinary...) so if i can do it, so can you (although it's hard work). and i've come so far... it really is quite a transformation. so let's take a trip down memory lane.
i wasn't always chubby. my weight went up and down a lot. for example, for most of high school i looked like this:

sort of gothy haha. here is another one from high school. i am very tanned because i was a lifeguard at an outdoor pool.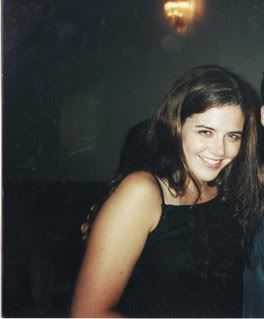 in university i slimmed down again, to about 135-140 pounds: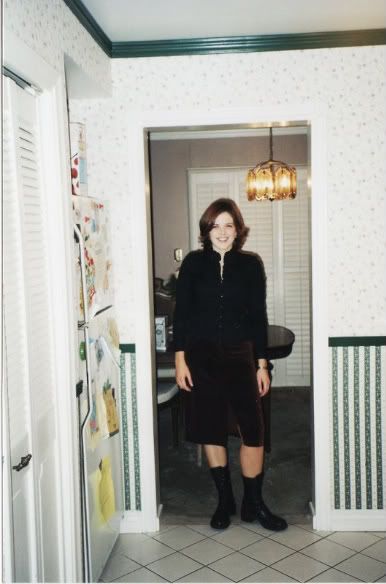 but then gained some more weight:


and then this is my highest weight, of 156 pounds:




and this is now:



when i used to try and lose weight, i would just eat less (much less) so obviously any changes were only temporary. now i know how to read nutrition labels, and how to see food as fuel instead of as the enemy. i also understand the importance of exercise in maintaining a healthy weight, and i can definitely say that i will never be a not-active person again.