today i got a haircut. since i am a lady of leisure i should take care of these things while i can. actually, scratch the leisure part. i need the structure of going to work everyday to avoid going mental.
last night i stayed up really late finishing my work. i had to courier it (it's book proofs that we are checking for errors before sending to the printers) this morning to my boss. now i am waiting for more work. EDIT: i just got a call from the courier and it won't be here until 8pm... hmmmm... that isn't very leisurely!) after couriering it i went on a five mile run. woohoo. it was long and not the easiest but it felt good to do it. then i had the fastest shower humanly possible, scarfed down some instant oats and rode my bike to the hairdresser. i didn't really know what i wanted, but he said he liked the length so wouldn't chop that much off. i have a pretty specific way that i want my bangs cut and i thought i explained it pretty well. apparently not.
this is what my hair used to look like (this is last sat):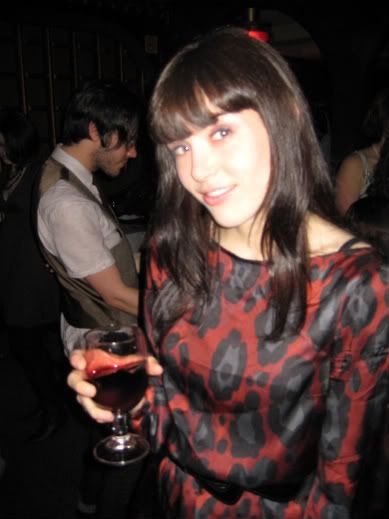 i straightened it before going out but it was so hot in the dance place it went a bit wavy. it's alright, but the ends are gross.
now it is quite a bit shorter. and the bangs are SO SHORT. i feel a bit ridiculous actually. i can't take a picture now and show it. why? because i just watched a scrubs episode on dvd and one of the nurses died and i was blubbering like a whale. ah, vanity. tomorrow i'll try.
last night i bought a new hair straightener/flat iron on ebay. if you don't have one of these you are seriously missing out. i had a nice red chi but it broke :o(. i bought a karmin brand one this time because it has "
tourmaline
" ceramic plates, instead of just ceramic ones. it wasn't more expensive or anything.
after my hair appointment i rode to my office to see if my heart rate monitor had arrived because it finally said "out for delivery in toronto" on the canadapost website. it's true, i still don't have it. it wasn't there yet (at work) and i didn't want to hang around in the danger zone so i just came home.
here are my product reviews for today:
ONE: special k satisfaction cereal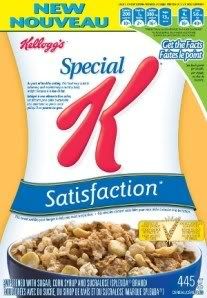 description from the website: Special K* Satisfaction* is a delicious cereal with a great blend of wheat bran flakes, crispy rice puffs, rice-soy squares and crunchy oat clusters that is a source of food energy. It is a good source of protein and high source of fibre, with one gram of fat per serving.
my review: this cereal is quite delicious, but it didn't keep me "satisfied" for very long. in the commercial there is this woman who can pass muffins at the mid-morning meeting because she's "just not hungry." well, i'd be hungry. next!
TWO: pita gourmet high protein pita pockets
click here
and then click on "pita pocket: whole wheat" in the yellow category, then click on "high protein: 284g"
my review: yum yum and healthy too. each pita has 140 calories, 1g of fat, 10g fibre, and 10g protein. they are a pretty decent size and while i wouldn't advise breaking them open and stuffing them, they are great to make a folded taco-style sandwich. they are thick like real pitas. :) i found them in longos. yesterday i had the above mentioned sandwich and today made a pita pizza.
today's menu:
all bran bar (2)
oats with mango (3)
(5)
5 pickles (0.5)
(5.5)
pita pizza:
pita (2)
1/4 avocado (2)
2 slices ff cheese (1)
spinach (0)
sun dried tomato (0)
tomato paste (0)
(10.5)
2 source yogurts (1)
strawberries (0.5)
special k satisfaction (1)
(13)
dinner: ?