it is so beautiful outside today. the sun is shining and the breeze is warm and there are lots of police on bicycles. i went for a five mile run this morning and i could really feel that spring is in the air. i was crying. not joking. but not out of happiness... from allergies. yee-gads! some years i am affected by allergies and some years i am not. it's hit or miss. those trees with the white flowers are blooming all of a sudden and it's really making me tear up.
i think it's these flowers, they smell really nice: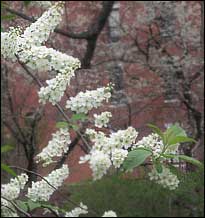 last night i hit the gym and didn't know what to do. i was kind of tired because it was monday so i looked online and found fitness magazine's
anti-boredom workout
. it says it will burn 400 calories. it didn't for me (about 300) but it was still a good workout. i pushed it to the max and here is what i did. RPE = rate of perceived exertion, measured on a scale of 1-10.
BIKE
0:00-5:00: warm-up, RPE 5
5:00-7:00: 85 rpm (rotations per minute) level 10, RPE 5-7
7:00-8:00: 100 rpm level 10, RPE 7-9
repeat minutes 5:00-8:00 two more times
14:00-15:00 recover (relaxed pedal), RPE 5
(in between machines i did some free weights)
ELLIPTICAL
15:00-18:00: moderate (level 6-9), RPE 5-7
18:00-20:00 increase (level 16), RPE 7-9
20:00-25:00 repeat
(more free weights)
TREADMILL
25:00-27:00 5.8 mph, RPE 5-7
27:00-29:00 7.0 mph, RPE 7-9
29:00-33:00 repeat
33:00-35:00 5.8 mph, RPE 5-7
35:00-40:00 4.5 mph, RPE 4
(then i did some situps and stretches). definitely an anti-boredom workout. :)
tonight is book club and we are discussing
lullabies for little criminals
which was amazing and i recommend it to everyone! i wish i knew i could buy it for so cheap instead of paying $17 in the bookstore. that's cheap cheap (like a little bird.)
today on the menu is some oatmeal, banana, strawberries, yogurts, clementines, etc. same old same old.