i mean, happy halloween!
this morning i tried day three, week five of the running podcasts and failed miserably. it is five minutes warm up walk, 20 minutes running, and five minutes cool down walk. i could only run for about 12 minutes before my knees felt like they were going to snap in half. what a BUMMER! this could be because i only got about 6 hours of sleep last night. or it could be too much for my body to handle. whatever it is, i am not impressed. i will try again on friday morning after a good night's sleep.
in other news, my cookies are a great success. i brought some to a party last night and people liked them. my bf picked some up before school today and hopefully the kids like them! and i brought some to work today and my coworkers are gobbling them down like thanksgiving turkeys. gobble gobble. i should have brought more. i can, because there are still about 30-40 left. that isn't too bad at all.
here is today's menu:
breakfast:
chocolate chip banana bran muffin (1)
tea (0)
coffee (0)
oatmeal (2)
3/19
snack:
yogurt (1)
4/19
lunch:
chef boyardee mac and cheese (3)
2 slices sprouted grains toast (2)
9/19
snack:
fruit (1)
toast with peanut butter (3)
13/19
dinner:
i don't know yet.
here are some pics from halloween. i am courtney love although it was difficult not to look like gwen. grrrr.
getting ready: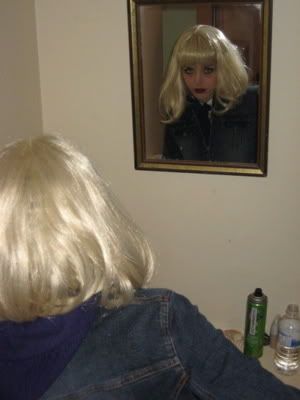 kurt and courtney. maybe i should ask people before i post their costumed selves on the world wide web. maybe.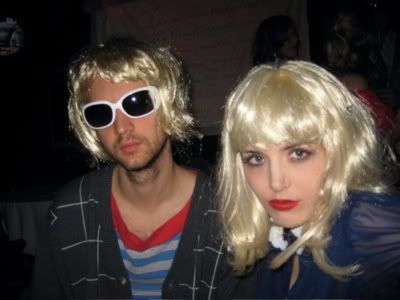 playing guitar hero... my new favourite game!