every year at work i get this catalogue with hideous items in it. well, every year being the two that i've worked here.
here are some doozies. get your holiday shop on!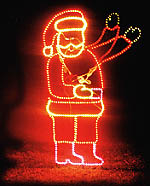 ho ho holiday shoes.
maybe this animal print santa sweater is more your fancy.
perhaps you and your husband would like to wear matching sweaters. gag!
this is listed as "glamorous party sweater.
that's all for today, thankfully!